The fourth installment of Manny Pacquiao vs. Juan Manuel Marquez didn't disappoint, as the two boxing legends delivered a thrilling performance Saturday night in
Las
Vegas.
It was an action-packed battle, and unlike their three previous meetings, there won't be any controversy surrounding this one. Although Pacquiao looked like he was well on his way to a third victory over Marquez, the fearless Mexican kept his cool and unleashed one of the most devastating knockouts in recent memory.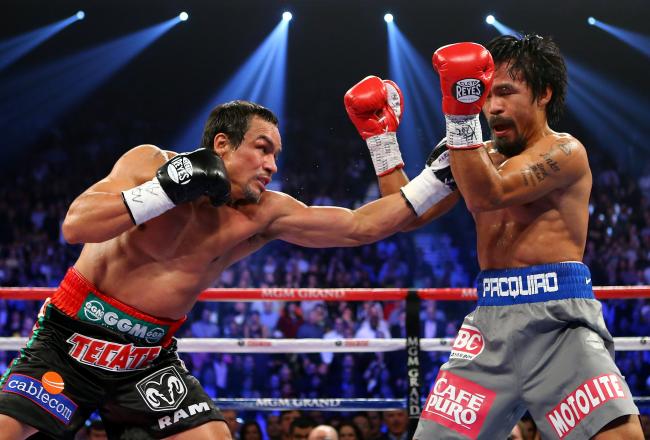 Here is a complete recap of the fight, with some pretty pictures included.
As expected, there was a sellout crowd of 16,000 people in attendance at the MGM Grand, including Steven
Seagal
, Magic Johnson and Mitt Romney, who should be able to relate to Pacquiao after his own crushing defeat.
Before the fight, Pacquiao took a knee in his corner to pray. He looked much more focused heading into this fight compared to his most recent bouts. Unfortunately for
Pac
-Man, his
pre
-fight focus apparently wasn't enough to secure the W.
Pacquiao came out strong, but it was Marquez who landed the first big blow, knocking Pacquiao on his back in the third round. It was the first time that Marquez had been able to knock down Pacquiao over the course of their rivalry.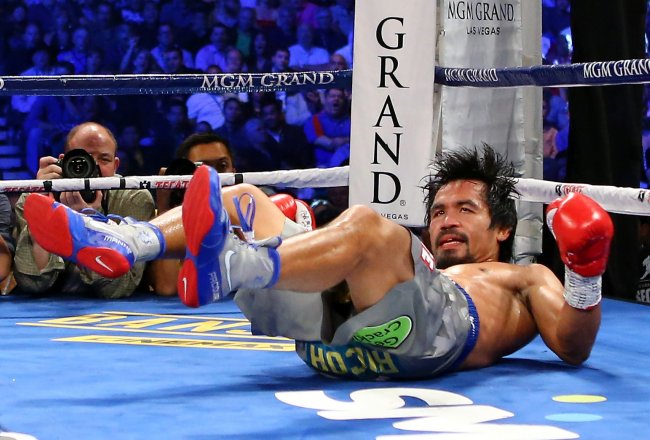 Pacquiao responded well, though, unleashing a flurry in the fifth round. He landed 21 power punches in the round, including a brutal straight left hand that sent Marquez to the canvas.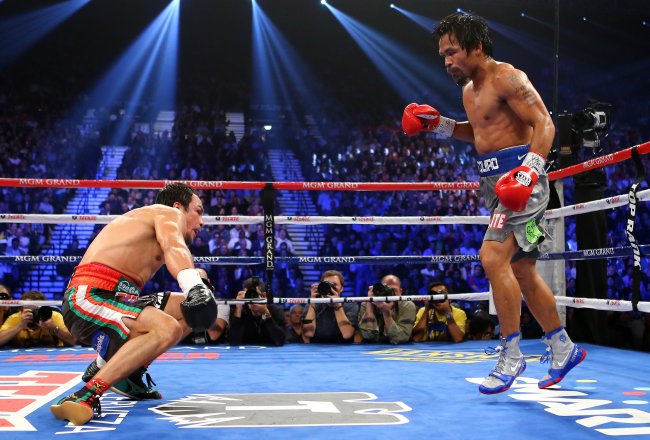 But although Marquez was bloodied, he recovered like a true champion. As Pacquiao went in for the knockout blow, he left his guard down and Marquez capitalized with the vicious right-hand cross.
In a scary moment, Pacquiao lay motionless on the ground as Marquez and his camp celebrated. Pacquiao would remain face down on the canvas for several minutes.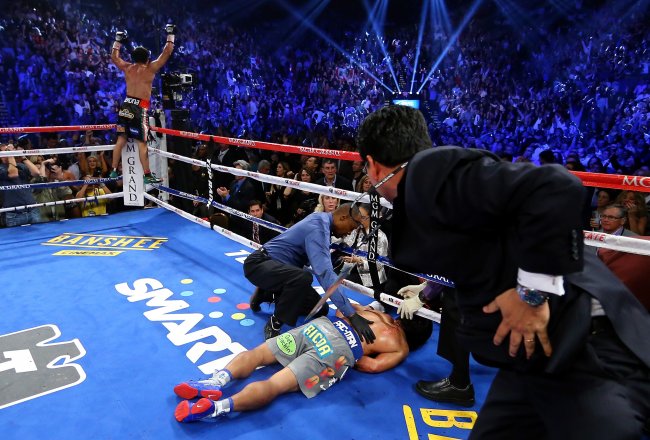 Thankfully, Pacquiao was able to stand up, and he congratulated Marquez on his hard-fought victory.
It was perhaps the best fight yet between these two. You can check out the video highlights below.
After the fight, both men said they would be willing to face each other for a fifth time. If they can deliver this kind of action again, I'm all for it.